FREQUENTLY ASKED QUESTIONS (FAQs)
Security and Emergencies. 911 Service is available and our island crew is standing by in the event of an emergency. We have a paramedic on the island available 24/7. There are hospitals a short distance away on the mainland. Because there is no bridge to the island, traffic and tourists are virtually nonexistent with resulting low crime. See LGI Fire & Rescue.
The neighborhood. There are about 400 single family homes and about 130 individual condo units on the island. The Rondavel is located away from the condos on the south end. Click here for Google map.
Water. Safe to drink from the tap/faucet. We use county water, not well or cisterns.
WIFI. There is free and line-of-sight Wifi at the house. Please bring your own wireless phone or other mobile device. Good reception available. However, being an island, Wifi is subject to outages at times from strong winds and/or thunderstorms.
Fishing: Rods / License / Guide. Please bring your own rods, lines, tackle, and bait. You can catch a variety of fish from the dock or beach. If you don't bring your own fishing gear, you can take advantage of several deep sea fishing excursions. Bait for purchase is available at Eldred's Marina as well as at the local Publix supermarket.
You do not need a saltwater fishing license if you are under 16 years of age, a Florida resident 65 years of age or older, planning on using a fishing guide, or if you are a resident and plan on fishing off the dock or from the beach. You will need a license if you fish from a boat. Details can be found at http://marinefisheries.org/license.htm and http://www.takemefishing.org/state/FL/FL-fishing-license-and-regulations/
There are many guides in the area. Make your reservations early as these are some of the best guides in the area and they book up quickly.
ARRIVAL
What to bring. Not much… see our checklist of vacation essentials. The Rondavel already has beach towels, bed linens, and every kitchen utensil you can think of. Pack light!!! You will probably spend the entire time in a bathing suit or shorts and a t-shirt.  There are two washers and two dryers in the house. Pack light!!!
The Rondavel has its own list of amenities and furnishings. Please check this first to see what you may need in addition to what is already provided.
There are a variety of cooking spices and condiments provided. We have an informal "co-op" arrangement. Use what you need and leave any extra non-perishables behind. If there is a favorite spice or condiment that you must have or simply cannot live without, be sure to bring it with you.
Items provided include:
Beach bags
Bedding, bath & beach towels
First-aid kit
Gas grill
Herbs & spices
Inflatable kiddie pool (good for afternoon on the bottom deck)
Water is great – absolutely no need to bring bottled. We are hooked up to county water.
The most important thing to bring?  Laid back and ready to relax attitude. Remember, it's not resort living but island living!
Clothes (Very little!)
Flip flops, water shoes
Hat
Shorts
Swimsuit
T-shirts
Underclothing
Sleepwear
For children bring:
Antibacterial wipes

(do not flush down toilet)

Diapers

(do not flush down toilet)

Ibuprofen, Band-aids, Benadryl etc.
Other
Fishing rods and bait for fishing (snapper, tarpon, grouper, redfish, mackerel, trout, sheepshead, snoek – amongst others!)
Bug spray ("Off" or "Cutter") and Avon Skin So Soft or Lemon Eucalyptus for no-see-ums
Cash for water taxi/parking
Feminine products

(do not flush down toilet)

Medications
Personal items
Cell Phone and charger
Sunscreen – an enormous amount / Zinc for nose and cheeks AND aloe lotion for those who may overdo the sun
Toiletries: including shampoo
Groceries 
Keep it simple. Food and drink –  lots. Champers for morning mimosas? Bring beer and soda cans vs glass as empty cans are lighter to carry as trash when leaving island.
Paper towels & paper tissue, napkins, toilet paper
Plastic wrap/foil/either zip lock bags or lingerie wash bag for shelling
Soaps:

(1) shower/bath; (2) detergent; (3) dishwasher pods

Trash bags – extra large

(they will hold 2-3 regular bags and will be cheaper to discard)

Breakfast:

Tea, Coffee/Filter/Keurig/Nespresso, Cream, Milk, Sugar, Sweetener, Juices, Bread, Eggs, Butter, Bacon, Waffles, Fruit, Jams, Cheeses

Lunch:

Sandwich meats, cans of tuna etc, peanut butter, rolls, condiments

Dinner:

Meats, fish, chicken, vegetables, garlic, rice, pastas, spaghetti sauce, potatoes, tacos, tortillas

Munchies:

Chips and dip (avocados), Nuts, Candy, Cookies, Granola bars, Chocolate, Ingredients for S'Mores
One-Eyed Willy 's makes fresh pizzas and delivers to your door. They are wood-fired with a thinner but bendable crust.  Typical oven nights are Thursday and Saturday but will fire it up for multiples. Cash donations accepted only — keeping in mind some ingredients cost more than others to resupply and the fuel to do grocery runs adds up etc. (941) 402-5093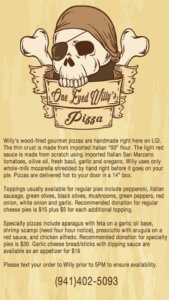 Purchasing of Groceries
There are no stores on the island. You will need to buy all your groceries before you meet the water taxi or before you launch your boat. The trick is to be organized and make a shopping list so that when you get to the island, you don't have to go back for provisions. Plan a menu and list of groceries needed. Work out your meals in advance – 5 meals and 2 leftovers or restaurant on mainland.
Ideas
The house has a crockpot.
Precooked or frozen meals (lasagna) or casseroles also a good way to go.
Grilling: steaks, burgers, hot dogs
There are two Publix grocery stores on your way to the island about 2 miles from Eldred's Marina. Publix is a large, clean, well-organized grocery store with an excellent reputation throughout Florida. Adjacent to Publix is a liquor store. There is also a Walmart in Englewood which is further away. The closer you buy your items to the island, the longer they will last. When checking out of Publix, please ask the clerk to double bag your order for your trip to the island. They sometimes call this a "boat bag"; it is a paper bag with a plastic bag wrapped around it. Tie the plastic straps so nothing falls out. This makes it easier and safer to transport your groceries in the boat. You might want to bring an ice chest or insulated bags for the perishables. Publix sells a cheap ice chest that will serve the purpose. There are also many sizes of ice chests & on wheels for transportation to/from the beach at The Rondavel.
Island Grocery Delivery Service
There is a grocery delivery service who can purchase all your groceries (includes liquor) for you and have them delivered to the house and placed in the fridge/kitchen awaiting your arrival. Call Evan at 941-830-1346. The charge is a flat $50 + 10% of grocery bill. Give him at least 3 days notice – 1 week would be best – and he and his team can pick up items either at Walmart (if you've called it in to them with a pick-up time) or at Publix. Please let me know if Evan will be delivering for you so that I can ensure someone is at the house for the delivery.
Check-in Time. Check-in is anytime after 3:00 p.m. on your arrival date. Early or late check-in times are always possible but please make arrangements in advance. If the Rondavel is not rented the morning of your arrival, check-in time is fairly loose. If you arrive before 3:00 p.m. and the cleaners are busy, you can always place your items temporarily in the fridge downstairs and enjoy the beach.
Keys for the house. We will email you the code numbers for the lockbox which contains the keys to the house.
DEPARTURE
The day before departure. If it is applicable, you should call the water taxi to reconfirm your departure time.
Check-out time. Checkout is anytime before 10:00 a.m. on your departure date.
Garbage. Remember there is no garbage service on the Island. You are responsible for removing all of your garbage. It goes with you on the water taxi or on your boat. Eldred's Marina will take your garbage for $5.00 per bag regardless of size. Use large garbage bags and save yourself some money. Using the composter at the house for all vegetable/fruit matter drastically reduces your trash collection. In addition, using cans and recycled plastics instead of bottles makes the bags lighter.
PUBLIC SERVICE ANNOUNCEMENT from LGI islanders:
LGI is not a last minute "on demand" kinda place.
If you need a golf cart, start contacting LGI Carts at least six months in advance. Golf carts are not replacement babysitters for PlayStations left at home and please respect the island and private property. If you have a reservation, don't expect to always get a cart as sometimes they run short due to people abusing them to the point they need repairs. Don't get mad at the cart shop be mad at the person who rented before you. (941) 697-3820
If you are using the water taxi, call at least two weeks in advance (this isn't NYC where you can whistle down a ride). Arrive early and have your belongings ready to load. If you're late you'll make everyone else late…other people have flights to catch, groceries to get across, appointments to keep, etc. (941) 697-5777
Eldreds Marina prefers that guests carpool for their stay. Parking space is limited and with an ever increasing number of guests coming it is more important to make sure everyone has a space to park.
Want to visit the Gone Fish Inn Gallery? Call for an appointment. This is a private residence so do not just show up. (513) 348-7099
Bret's on-island taxi service can get you to and from the dock but he needs advance notice as well. Keep in touch with him (941) 223-4548
Pizza? Make your delivery reservation early in the day, this isn't a 30 minutes or less service nor is it available every day all day. Always text (941) 402-5093
Grocery delivery is available but you need to start touching base with him a month out to coordinate everything. Don't expect to show up out here and have it delivered the next day. (941) 830-1346
Key lime pie is not ready when you want it. Again, give her a couple of weeks notice. (813) 310-0902
The "iceman"….he's a busy charter Captain with multiple rentals. You will not get ice on demand even if you stand in front of the sign with a large cooler. (813) 781-0530
Boat tours, fishing charters, kayak rentals, etc. are all by advance reservation as well.
If you've rented a house, you only have "the right" from your dock to your house and to the beach via a legal easement. North-south travel is up to the discretion of private property owners, many of whom currently allow all of us to "trespass". It may look like a "road" but it's private property. No one has "the right" to travel north-south to see the island. Please be respectful and don't tempt owners to close it down.
If your beach access is "crowded" or you don't like your beach access, please remember that other beach access points are private and you need permission to use them.
Repairs / Property Management : with the current labor shortages it is difficult sometimes to find licensed vendors to perform work and not put homeowners at risk with uninsured handymen. Some repairs can take time and some owners prefer to do the work themselves when on island. Please keep in mind that no one wants to do a bad job.
Everyone wants to provide the best experience for their guests. Please be patient if things aren't done as quickly as they are on the mainland.
ALWAYS BE COURTEOUS AND KIND TO ISLANDERS AND SERVICE PROVIDERS…THEY ALL TALK AND IF YOU'RE A JERK TO ONE THEY WILL ALL KNOW ABOUT YOU WITHIN TEN MINUTES.
LEARNING MORE ABOUT THE AREA
The Englewood Chamber of Commerce has an excellent website with a very nice Visitor's Center. The Visitor's Center has lots of information about boat rentals, beaches, and restaurants.
What is Little Gasparilla Island? The Stories – The Legends – The Lives 1909 – 2016 by Sue and George Paskert. This book is a History of Little Gasparilla Island. It includes stories told by residents of the island, as well as family photos. This book also includes portraits of the island's beauty.
Article in Ocala Style Magazine 2019: Spring Break in Old Florida. See here.
The State of Florida's official website has lots of really good information on fishing and boating.
This Englewood , Florida Guide offers a great "Things To Do" section with discount coupons for area attractions and restaurants including a 10% discount for The Fishery Restaurant. The Fishery Restaurant is across the bay from the Rondavel, is right on the water so it has a boat dock, and is highly recommended.
A useful weather page. And a useful wind finder page.
Don Pedro Island State Park is located a quarter mile north of Gasparilla Villa. This website gives useful information about Don Pedro and the photographs were taken from our beach.
Cayo Costa State Park is a really cool park located just south of Boca Grande pass. The pass is located 10 miles south, and is at the south end of Gasparilla Island. Gasparilla Island is the next island south of Little Gasparilla Island. Gasparilla pass separates the two islands. It is only assessable by boat but is worthy of a day visit.
Gasparilla Island State Park has a really cool lighthouse museum and visitor center. You can drive there from Eldred's Marina as access is via the Boca Grande Causeway right there at the marina.
The Charlotte Sun is the local newspaper's web site. It does contain information about boating, fishing, beaches, clubs and organizations, dining and entertainment along with art and culture.
The Florida Sportsman discusses fishing, boats and regulations. If you are a fisherman, this site, although it has lots of advertising, is worth spending some time.